Friday, October 27, 2006
Maybe I'm on the Wrong Internet
Our glorious leader, King George I ... er, President Dubya ... er, the guy who answers the mail delivered to The White House as "Resident" ... was speaking and was talking about "the internets".

A slip of the tongue? Perhaps, but it wasn't lonely, it was joined at least once more when he spoke again of "the internets".

This intrigues me. Not because I think our leader is mistaken, but that WE might be the mistaken ones.

What if there are two internets (or more)??????

One for He and his cronies. One for the rest of us. One in which we are winning in Iraq, and one where there's a civil war a-brewing.

One for those children who have never been left behind. And one for those trying to find ways to limit children's internet access with filters so that they can't see certain sites that have ******* in it's contents.

Yes, there may have been a slip of the tongue. But not in which the President shows how little he understands of technology (even my mother knows better than that and she's nearly a techno-phobe), but instead where he gave away a national secret.

I may be on the wrong internet, but that's okay. On mine I can play Suduko. (Mr. President, that's where you have to be able to count to 9, multiple times, in a box, in lines ... yes it really does make sense after a while, give it time).

Hehehehe,
Lola

Wednesday, October 25, 2006
Jeffrey wins?????????????? Wha????
Alrighty then. PROJECT RUNWAY ends with a whimper rather than a bang when Uli gets robbed, Laura gets stiffed, Michael lost his mojo, and JEFFREY wins?

I have to admit, there were some outfits in Jeffrey's collection that I did think were creative, fun and innovative. Just not particularly wearable. But there were also some hideous outfits too. Laura's collection was pure CLASS and ... well, wow. But Uli suprised me, she went and was innovative, fun and creative in a WEARABLE way. Well, wearable if you look like Nazri maybe, but still ... gorgeous. Michael, Michael ... you who has lost his way come back to us! We love you Michael.

However, there was one REALLY awesome part of Jeffrey's collection. THE MUSIC. I looked it up, he helped write the music! I just want to know if it's available. Not the clothing, just the music. I'll see if Uli or Laura can design for a much shorter, whiter, rounder Nazri named Lola.

Later y'all!
God Bless,
Lola

Sunday, October 08, 2006
I got "THAT" call ...
Well, well, well, much has been happening. First of all, let me apologize to my terrific and SUPERB secret pal who has revealed herself as PLUMFAN! I love it! Especially since I'm a Stephanie Plum fan too! How perfect was that?
I got her package just as I was leaving for out of town and did not get a chance to put anything up in the way of the HUGE thank you that I certainly owe her. Pictures to follow.
In the mean time, I go out to Myrtle Beach with some friends and we have a great time shopping and eating and shopping and ... well, shopping. We went to the Carolina Opry and the Dixie Stampede. I wasn't sure I'd enjoy either and ended up having fun with both. Not high brow entertainment, and I could have cared less.
Unfortunately, in the lobby of the Carolina Opry house, I got "THE" call. You know the one. The call letting you know that for a dear relative the end is very, very near. Now, those who've read my blog previously know that my grandmother is 96 and in poor health at the moment. But this call was shocking to me, because it wasn't the call I'd been expecting. This was about my Aunt Beverly.
Beverly had been a cancer survivor for several years. Then the cancer returned and she did not respond to chemo and was given 3-6 months, this was in May. Then the good news, she was responding to the radiation and the prognosis was revoked. That was the last that I had heard, that she was responding and things were well. Well, Friday night I found out (she lives out of state for me) that Hospice was with her, she was conscious only 3 hours out of the day and the end was "near".
I was expecting this news, but for someone else, not her! I can not claim to be close to my aunt, we've never been close but we've also always been friendly. I feel, feel, feel, for her children and grandchildren ... and my mother. Mom and Beverly are step-sisters with an up and down relationship, but behind it all is a deep love and respect for each other.
I will not be going to the funeral because I will need to move in with my step-dad and take care of him following his knee surgery and rehab so my mother can go to Texas. I will make no jokes here about men and babies and being sick or recovering, most women already know and most men will never accept the truth.
My cousin said her mother was "ready and at peace" with her family around her. Beverly has always been a strong, strong woman who put family first and I know she will be missed by many.
Now, I have some pictures that I promised to post. First are gifts from my wonderful Secret Pal who could not have spoiled me more. She begged my forgiveness for the box being late, but I've got to say her timing was perfect. When I needed a pick-me-up, it was there!
First is an overview of everything. Errrr ... almost everything. There was this OTHER box. A box of ... chocolates. *blush* Godiva chocolates. They're not pictured, because, well ... they didn't last long enough to be photographed! YUM!
But there are two lovely hand towels with a sea shell motif, a funny knitting card and a knitting mug too! Beaded stitch markers and a knitting Answer Book, exactly what I need if you've read my blogs on mystery stitches ...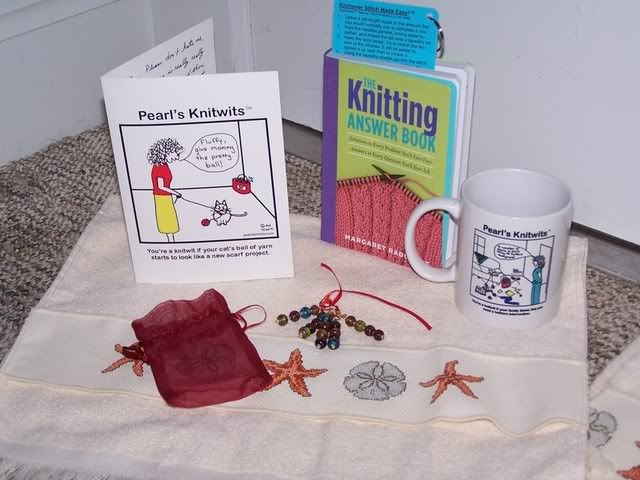 Here is a close up of the beautiful stitch markers. I love 'em!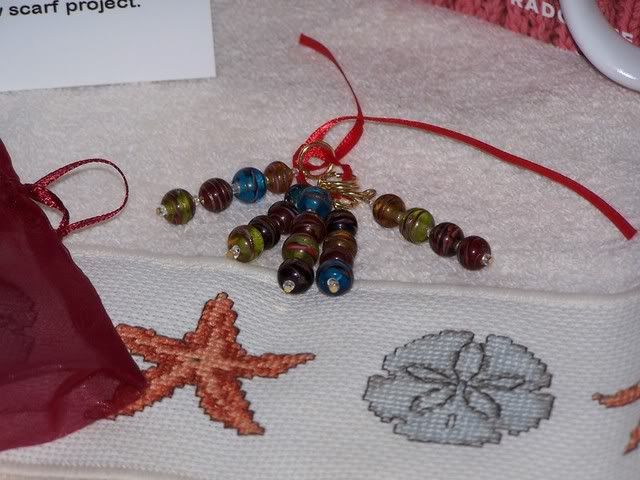 And a close up of my new favorite resource!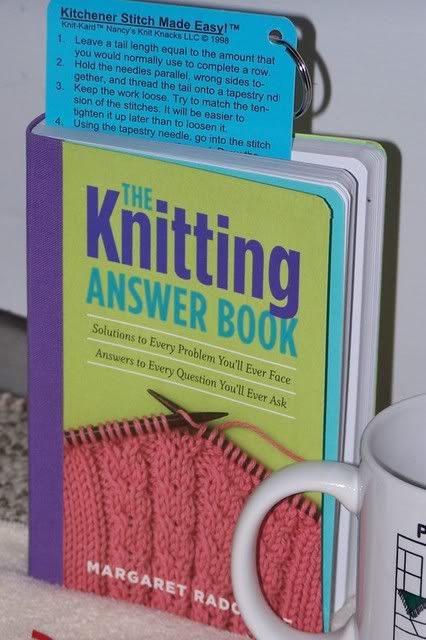 And this is just a picture to prove a point. Men's attachments to certain items are instictual and probably bred into their genes.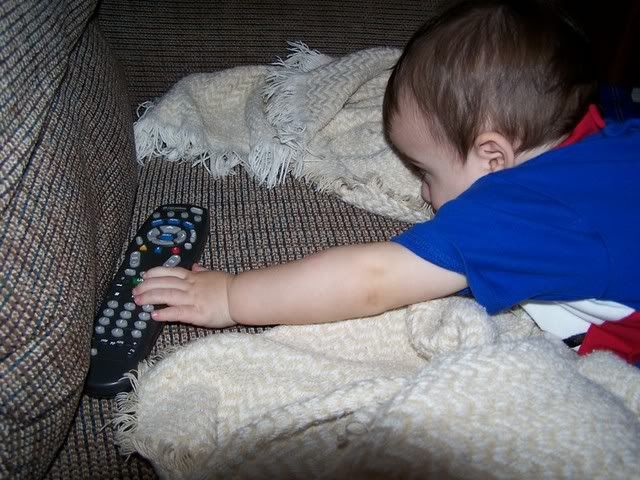 Love y'all and God Bless,
Lola
Monday, October 02, 2006
School Prayer
Just a word or two on the subject of School Prayer. My personal views aside, this subject should be on whether students should be allowed to pray in school at the start of the day in reference to learning new things, friendships, family, and what have you ....

NOT WHETHER THEY LIVE THROUGH THE DAY BECAUSE SOME ()&*^&*(^(&* IDJIT DECIDED TO SHOOT THEM!

Three deadly attacks in schools in one week.

My thoughts and prayers are sent out to all those affected in the direct or indirect manner to these incidents. The grief and shock are incomprehensible and put all my petty concerns into the shade.

New school prayer: May the children live to graduate whole and healthy.

Lola