Monday, January 30, 2006
Kyo Rocks!
Alright. For those who may not be aware, I have entered into Knitty's new secret pal round (#6). I can not speak of my downstream pal, cuz well, I don't want her to know who I am until the very end.

Now a few words about my upstream pal. I LOVE HER! I have no clue who she is, but she chose Kyo as her avatar and is already teasing me with asian themed e-cards and the like. If this is an indication of things to come, I may implode with curiousity before the end of the round!

On another note, I'm trying something new - I used soy flour (and 1/2 a cup of regular flour) in my bread machine. I used the whole wheat setting - why that setting you may ask? Why not? I wasn't sure and made a guess. It's cooling now. It didn't rise real high, but I expected that. I'm hoping it's good. There's no sugar per se, but I used honey and molasses instead. I have NO unearthly idea how this will turn out.

Unearthly? Hmmm, must be a theme. I watched WAR OF THE WORLDS tonight. Cool. Not too shabby. Still not a big Cruise fan, especially recently, but not bad. Not great either, but not a waste of time.

I meant to come home and clean my house from top to bottom today. Well, I scrubbed the bathroom sink, washed dishes, washed sheets, boiled some eggs, and ... uhm ... and chatted with my landlord. There are simply NO short conversations with Chuck. He's a great guy and I absolutely love him and his wife. But there is a time/space anomaly that happens every time he/she/or both and I have any kind of conversation. It just takes way too long. That's no excuse though, I had plenty of time. But I no longer felt the urge to clean. Hey, at least the kitchen's clean and fresh bread awaits - if it's any good.

Anyway, my secret pal rocks and I am so excited. On the other side of that, I've been shopping for my downstream pal and I'm very excited about some of the things I have planned. Can't wait to give or receive.

Ta and God Bless!

Sunday, January 29, 2006
What's Your Alibi?
Hey y'all,
Just back from my weekend in Myrtle Beach, South Carolina. We bought 3 powerball tickets and hopes are low of becoming instant millionaires, but we live in a hopeful world.
We went SHOPPING. Hit the flea market and the outlets. I have to total up the damage and am not looking forward to that, but had loads of fun. Did find a present for my mother. Pictures to be posted after she opens it, just in case!
Jean, Sandra and I went to the House of Blues for the Murder Mystery Dinner Theatre. We were in a large dining room with about 115-130 people and we were told to TRUST NO ONE. Then clues were revealed, scenes performed, people dying and during dessert we were asked to write down who, what, where, when and how. The winner would be announced shortly.
I won! I thought it rather obvious, but it apparently wasn't. The girl across from me got the killer's right, but didn't write down the motives. I guess I wrote down a more "complete" answer with details. Hey, sue me.
I won a mug with candy and a Murder Mystery Party game: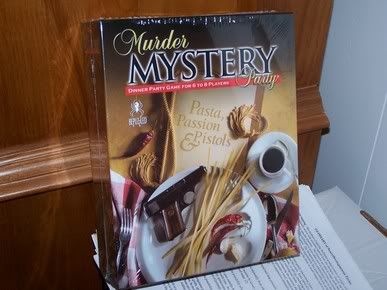 and for an added bonus, here is Trey from last weekend!
Just got back into town and found a message from my Knitty secret pal (6). She's using Kyo as an avatar? Does she know me??????? I can't tell you a THING about my downstream pal, cuz, well .... it's a secret! Have already started shopping though!
Later y'all
Wednesday, January 25, 2006
Pickler Paris! (or, "Finally a Paris I like!")
American Idol recap:

Kelly Pickler is adorable and her only problem may be too close a resemblence to Carrie Underwood. I like this girl. Pick Pickler ... heh.

Kendra and Halecia, cute girls with nice voices. We'll see.

Paris Bennett. Girl. DUMP AMERICAN IDOL AND GET A CONTRACT THIS VERY SECOND!!! You serioursly, seriously do NOT need this show. This girl sang the Dixie Chicks and Billie Holiday and made it work! You are a ready for prime time player and with your connections (hello, three time winning Grammy Grammy??? - Grandma, get her in touch with the right people).

Pickler and Paris, you both are cute as buttons and have my votes so far.

Tuesday, January 24, 2006
Katchup, or "catching up"
Hi! I've been out of touch for a week. Out of town for a memorial service and funeral mass for Pat. Stayed with the family and just did little things to help out where I could. I was a bit hesitant to stay, but the family really made me feel welcome and that just by being there I was helping. The memorial service and funeral mass were very nice indeed, although I choked up when they wheeled Pat out for the last time. The other time it really hit me, I was standing in Pat's kitchen and I suddenly missed her like no one's business. That was HER kitchen and her arena. That kitchen was one of the defining models for her role in life. There is an O.T. theory called "Model of Human Occupation", or MOHO. It states that subconsciously we all define ourselves by our "roles" in life. Those roles can include, but are not limited to, things like: student, daughter, son, mother, father, brother, teacher, caregiver, care-receiver, bread-winner, etc. If any of those roles suddenly change we are faced with the stress of having to re-define ourselves for the loss and/or addition of roles.

Even good changes can be stressful - weddings, births, graduations, etc. The harsher changes have grief added on top of all that.

I'm back at home now. Little at a loss since this weekend I'm going away on a previously planned "girl's weekend" out in Myrtle Beach. We're going shopping, eating, shopping, and shopping. We're also going to see the Murder Mystery Theatre. Oh, and did I mention ... shopping? We're going to the flea market as well. I may come home with nothing or lots of stuff, but it doesn't matter. It's all about the girls getting away and having fun.

Gotta run now, going out to eat with some friends.
Later!
God Bless

Wednesday, January 18, 2006
...on Mothers
Last eve, during American Idol, I received a phone call. Within a few minutes I was out the door and on my way to another town an hour away. My good friend's mother had had a heart attack and was most likely not going to survive. She did not.

Pat was a mother and a wife. You know, the old-fashioned kind that worked in the home. She raised a tightly-knit family. She worked at her son's store when it was necessary, she worked on many different projects as needed. But she was a homemaker. She made that home. What higher praise could there be? My last visit with her was this last Sunday night after a family dinner (in which I was always welcome). She kissed me goodnight and told me to drive safely. I like that being the last moment with her. It suits her and her life and all she stood for.

Pat had died thirty years ago. Heart attack and death, shocked back to life. They shocked her poor heart far beyond what was considered normal. Her doctor refused to let her go. She was shocked so much her chest was burned. But she came back. She wasn't supposed to live out the year. She lived thirty more years. She lived on 2/3 rds or less of her damaged heart and battled congestive heart failure the entire time. Her family watched her like hawks and treasured her. Pat, for her part, refused to be coddled and cooked, cleaned, worried, worked, raised two children and ran the household, finally getting to hold her first (and thus far) only grandchild.

She passed last evening and everyone she knew mourns her loss. But perhaps even more special, they celebrate the miracle of thirty years. That's 10,950 more days that were cherished by her family.

I personally only knew her for the past 9 years. And am grateful for every last one of them.

Perhaps that should be the lesson. My mother irritates me. She nags and loves and nags some more. Perhaps since I have not had that close brush with losing her I have not treasured her as I ought. I love my mother and am grateful for each and every day that she is around to bug me about being unmarried. Really.

Pat, you were and are ... loved.

Tuesday, January 17, 2006
... in Death
Okay. See, I was innocently minding my own business at work one day while my boss cleaned out a shelf in her office. She tosses out a book and asks if anyone wanted to read it. Now, I love to read and I recognize the name of the author, J.D. Robb as being a pen name for Nora Roberts. I don't read a lot of Roberts, I don't love everything she's ever written but I had read the first book of her mystery series with the detective Eve Dallas and this was that same book. I had petered out of the series a couple of books into it and didn't want to pick it up again. But, what the heck. I picked it up ... and got hooked.

I have now read:

Naked in Death
Glory in Death
Immortal in Death
Rapture in Death
Ceremony in Death
Vengeance in Death
Holiday in Death
Midnight in Death
Conspiracy in Death
Loyalty in Death
Witness in Death
Judgement in Death

and am working on Betrayal in Death and am upset because the local Books A Million doesn't have Seduction in Death on the shelf. I could order it, but I feel like a junkie ... I DON'T WANNA WAIT! See, there's this secondary storyline with Peabody and McNab that took an interesting turn and ..... and it looks like I will be hitting the local library tomorrow.

Geek. That's me.

And to prove it? I'm currently playing my best friend's xbox game FABLES. And am trying to find time to watch the full set of Ninja Scrolls.

Total Geek. But since I revel in my geek-dom, it's all good.

American Idol starts tonight. Not sure I'm watching this season. Maybe. Survivor is starting in February. Not sure about that one either. I'll at least watch the first episode to see if I might like them.

Haven't knit much lately and that bums me. Horrible audition for "The Wizard of Oz" and didn't get cast. Not so bummed about that. Maybe a little, but not much. My friend Mary made it though (Cat, Michael, Sandy, Beep, Jim, Steve and Shannon also made it). There wasn't really a part for me in the show. I am not a singer. At all. Really. I'm just waiting for the next few shows. We'll see. I did get to play Lenny in "Crimes of the Heart" and it wasn't a minor role, so I got no room to be bummed. But it would have been fun being in the show with my friends. I guess that's what I'll miss the most. Might try and do some tech work. We'll see.

Later y'all
God Bless

Monday, January 09, 2006
Another Manic Monday
If you don't recognize the lyric above, tough. I was watching PROJECT RUNWAY the other night and someone said to Diana that her dress looked like Stevie Nicks, and Diana asked ... wait for it ... "What's a Stevie Nick?".
Moment of silence please. Thank you.
Now onto my pictures for the day. The first is of me.
The first three (of the eventual 5) children each had a Christmas ornament that looked like them. This was mine. Nicknamed "Lucy" for Lucy Van Pelt of Peanut's fame. Not because I looked like her so much, but acted like her. In case you are wondering, it was not necessarily a compliment. But I take a perverse pride in it all even after all these years. Too many years now ... who is Stevie Nicks, my @$$.
Now this picture is of some of my collection of figures. These are from Final Fantasy X and I post them now in anticipation of the new FF game coming out soon!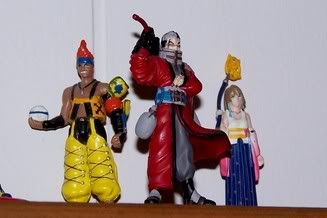 Distressing news from a friend from my old job. I won't give details, they are not mine to share. But someone I worked with for many years is grieving. Now death is a part of life, but life taken senselessly through the actions of another, however accidently is never easy. If you feel like praying without details, my co-worker will appreciate it and God knows to whom all prayers are directed.
Later y'all
Friday, January 06, 2006
Heir-brained
Ok. I'm home sick with a cold. Channel surfing. There's a show - "Paris' Most Shocking", like a countdown about ... you know, the annoying blonde Hilton sister.

Now. Consider that I watch PROJECT RUNWAY and their most recent challenge was to make a party dress for Nicky Hilton. In the one show that I saw Nicky, she was so much less irritating than her sister.

I'm tired of Paris Hilton. The only Paris I want to know anything more about is the city in France (which I will be visiting in a few short months - for the first time).

I was watching the show, counting down Paris moments and grumbling to myself how did someone with absolutely no talent or credentials become so fascinating to people? That's when I realized that my grumbling and watching her was ENABLING THAT VERY THING! T.V. off. No more, please. Really.

That said, the recent PR show featuring Nicky Hilton - well, the focus wasn't so much on the girl but the fashion designers. It's a fine line, but since I am the decider of where that line is drawn, then I claim "fair ball!"

PROJECT RUNWAY

I still miss Daniel Franco!

Okay. Santino's dress was nice, but I agreed with Heidi - to short waisted. Chloe's was just not me (admittedly they weren't designing for me though). Nick's had a very cute back, but I didn't like the front as much.

Guadelupe and Marla - cut them both. That sucked.

Zulema - ???????????? Yuck. The bodice was kind of cool, but other than that. No.

Emmett - well, personally - I LOVED THIS DRESS. Loved the fabric and design.
Kara - Ditto (see above comments on Emmett's dress). Girl, that was cute!

Andre - I wanted to hate it, but I didn't. I didn't love it, but I didn't hate it. I just don't like you much.

Diana - Uhm, better luck next time.

Daniel V. - I didn't think you should have won the team lingerie challenge. But in this challenge, you rocked.

Later y'all and God Bless

Wednesday, January 04, 2006
Gee Whiz
Gee Whiz, it's been a long week. First off, Happy New Years! I spent the holiday with my good friends April and Eddie and their 3 month old son. Great time was had by all, but I was the only one awake at midnight. Not that I cared, I had my nose buried in a book at the time. Party animal, that's me!

Unfortunately, everyone at their house was sick. Now I am beating back the dreaded cold. I've had my flu shot and I really, really do not feel that badly. I'm hoping this gets no worse. And yes, I'm drugged (legally) to the gills.

Then, on New Years day, I get a message that my 95 year old grandmother has been hospitalized for a cardiac "incident". I'm told by my brother, D, that our aunt sent out an e-mail but he'd called mother to let her know since she's not in on the e-mail loop. Mom tells him to call me since I'm out of town and probably haven't heard. This upsets me a little bit. D called me, but did not bother to call Suzy, C, or M - (our siblings). Suz and C don't have e-mail at home, only through work and remember - this is a holiday and a Sunday. M works long hours and who knows how often he checks the computer? I called them. C and S did not know and M returned my message as soon as he got home and he had not heard either. I came home later and found I DIDN'T EVEN GET THE E-MAIL.

Petty rant, but there it is.

To tell on myself, I forgot to call our cousin Trish. But she did get the message from my aunt, so it did all work out in the end.

I spoke with my grandmother and she had heard from everyone and was soooo pleased! It just made her so happy. She's a bit upset the doctor told her she can't drive anymore. We're all relieved about that actually. She's went home yesterday and is doing well, thank God.

A different incident shook me a bit recently. We had a new employee I shall call "Marianne" which is so not her name. I use the word "had" and a false name because, well, she was escorted off the premises the other day. Failed drug test. Now, I happened to like this girl and turns out I have worked with her mother in the past. I have great respect for her mother (and liked her Dad a lot) although I haven't seen her since I left that job to finish my fieldwork for my degree. I hate this. Not only did she lose her job, but this is now reported (by law) to the governing board of our licensure (occupational therapy assisting).

I'm sorry and appalled at the same time. Why? Why jeapardize everything for ... what???? I'm sorry. I'm one of the annoying that has never smoked cigarettes. I've tried marijuana in the past (long past) but didn't get real excited about it. We are in a field that drug tests are random and serious. Health care. Direct patient care. Duh.

What you do on your own time is your own business. But don't bring it to work. Now I'm left without any PRN help right now and while the caseload is low that's ok, but it never stays this way. We interviewed a new girl today. New grad. Oh boy (insert sarcasm here). It should be a rule that all new grads should start in the hospital system and then go elsewhere if they so choose. That's what I did. I learned more in a few months in that setting than I ever did in school. They tell you straight up that when you graduate with our degree you may have the title of a therapist but what you have actually acquired is only the basic knowledge from which you will learn how to do your job ONLY ONCE YOU START WORK.

Maybe she'll be great. But there is so much more to learn and experience in a wider hospital setting than there is in a narrower specialized field like long-term care.

That's not everyone's opinion. Just mine and every OTR and COTA I have ever worked with or gone to school with. Admittedly it's a narrow sampling, oh well.

REVIEWS!

Only MY opinions follow:

Kung Fu Hustle: Loved it! Funny, very funny! Yes they use special effects and wires (unlike Ong Bak), but it works and is not formulaic (unlike Ong Bak).

Sky High: I can see why Marvel wanted to block this movie. Straight rip-off of many Marvel and D.C. characters. Especially note - dude wall climbing i.e. Spidey. HOWEVER - loved it! Funny and charming. Rip-off it may be, but it was lovingly done.

Grave Sight: This is a book review, not a movie. This is a new book by a favorite author - Charlaine Harris. This is outside of her Southern Vampire and Aurora/Lily mysteries. I admit, I was a bit miffed that she had taken time away from these three lovely series to write another one. I was wrong. LOVED IT! No spoilers, but seriously - check it out! It's paranormal mystery - but no vampires or werewolves or anything like that. BTW - I like this author (although she makes me nervous) because she is not afraid to shake up the status quo in a series - she has been known to kill off major characters.

Anyway, rants and raves are over.
Good Night and God Bless